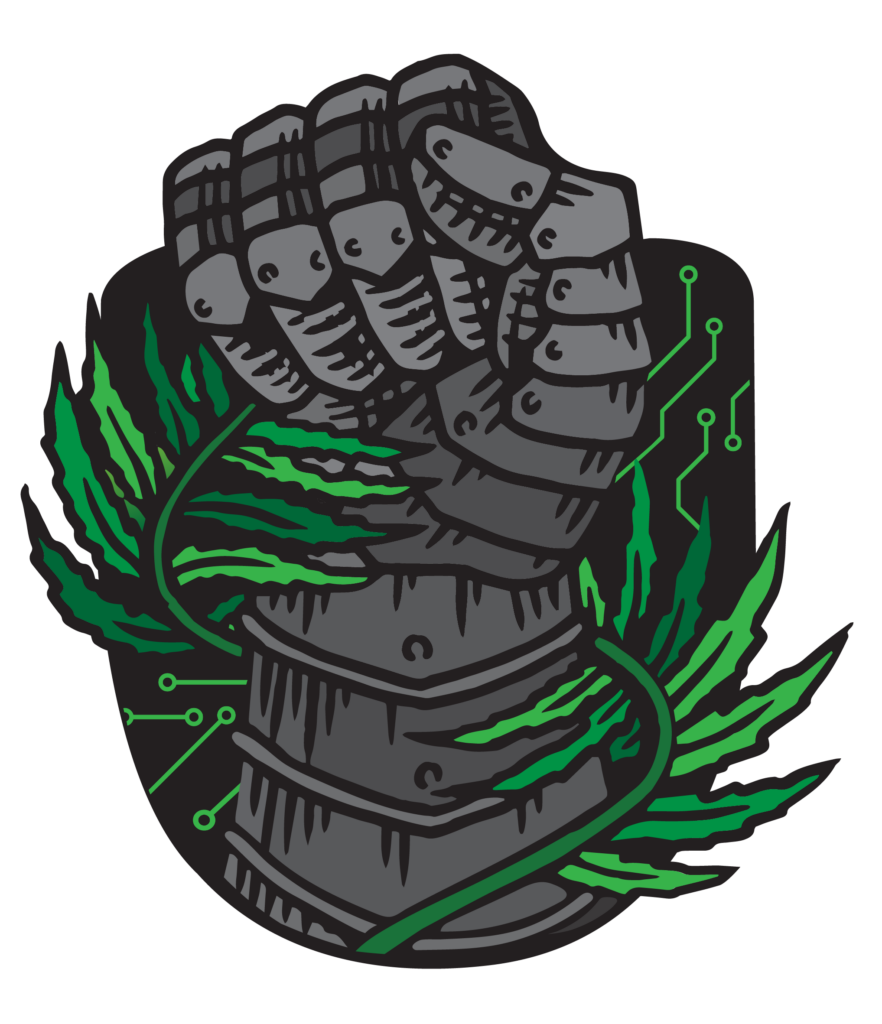 How to Buy Cryptocurrency in NZ - 2023 Guide
The safest, fastest, and easiest way to buy Bitcoin, Ethereum and other cryptocurrency in New Zealand is through a Kiwi crypto retailer like Easy Crypto NZ or Binance.
Disclaimer: All information, guides and recommendations below are based on our own research, preferences and experiences. You should always do preemptive research on anything you buy and on any financial service you use. Cryptocurrencies are known to be extremely volatile and fluctuate in price.
Where to Buy Bitcoin & Cryptocurrency in NZ
What Cryptocurrencies Should I Buy?
>As there are over 20,000 cryptos in the market, it can be difficult to choose what ones you may want to buy or invest in. At Cryptocurrency NZ, we believe the best place to start researching is Bitcoin, Ethereum and Monero. Our guides below should provide a starting point.
Different Ways to Buy Cryptocurrency in NZ
Cryptocurrency Retailer NZ
NZ based crypto retailers like Easy Crypto NZ are the most popular way for kiwis to get their hands on Bitcoin, Ethereum, and 110+ other coins in NZ. 
Cryptocurrency retailers are non-custodial brokerage services that source cryptocurrencies from various exchanges and sell them directly to the customer at a small fee. (Standard retailer fee is between 0.5% – 2.5%). They essentially act as middlemen, sourcing coins from many different exchanges at the lowest rates possible to stay competitive. There are multiple key benefits to purchasing through a local crypto retailer such as access to NZ based customer support. 
Cryptocurrency NZ recommendations:  Easy Crypto NZ and SwyftX
 NZ Crypto exchanges like Binance, Dasset and Kiwi Coin are marketplaces where you can buy, sell, and exchange crypto with other traders in real time. 
Exchanges are typically custodial, meaning in order to use the exchange you must deposit your crypto / NZD / USD into an account within your exchange. This differs from crypto retailers like Easy Crypto NZ who are almost always non-custodial. (They never hold your coins / orders sent directly to your personal wallet.) Crypto exchanges come with both benefits and drawbacks, as there's potential to save considerable value that would otherwise be spent on gas fees.
However, exchanges also pose considerable risks. There's a saying that goes "not your keys, not your coins', referring to the importance of being in control of the private keys associated with your funds. Ultimately, the person with the private keys controls what happens with the crypto, so if you are not the person holding them, you are entrusting a third party to hold your coins. This poses risk as exchanges can be hacked – such as FTX, Cryptopia, and Mt Gox. 
At the end of the day, it is up to you as an individual to decide how to manage your crypto. We recommend storing your crypto in a secure self-managed wallet.
Cryptocurrency NZ recommendations: Binance, Dasset & Kiwi Coin.
Buying and selling crypto person to person (P2P) is the act of buying, selling, or exchanging cryptocurrency directly between 2 users, without the use of an exchange, retailer, or third party to facilitate the transaction process. It's the way of buying crypto in NZ without having to provide your KYC/personal data. 
New Zealand is home to the NZ P2P Crypto Marketplace; a group of over 2,000 Kiwis interested in meeting P2P crypto buyers and sellers across NZ. Before you make your first trade, it is critical you learn the basics of P2P , the risks involved and the standard protocols Kiwis use to trades. Scammers are rampant in the NZ P2P crypto trading scene, and it's virtually guaranteed you will encounter them. Scam is real, keep your eyes peeled. You have been warned! 
Step by Step - How to Buy Cryptocurrency in NZ


Step 1 - Create an account with Easy Crypto NZ
1. Create an account with Easy Crypto NZ
Step 2 - Verify your Account
Step 2. Verify your Account
D) You have two options for verification; SumSub or manual verification
SumSub: Automatic account verification, use your ID to verify your account in under 2 minutes (recommended)
Manual verification:  Have someone at Easy Crypto manually verify your account, in 24 hrs or less
Step 3 - Select the Crypto you want to Buy
Step 3. Select the Crypto you want to Buy
Tip:
We believe the best place to start is with Bitcoin (BTC), the oldest, largest and most well known cryptocurrency in the market. Our next steps will show you how to buy Bitcoin, but for other cryptocurrencies like Ethereum Easy Crypto works the same way. 
E) Head back to the Easy Crypto homepage (https://easycrypto.ai/nz)
F) Select the cryptocurrency you want to buy. i.e. Bitcoin, Ethereum, XRP
G) Select how much NZD worth of Bitcoin you want to buy, then click 'Buy'
Step 4 - Provide Easy Crypto with your Bitcoin Wallet Address
Step 4. Provide Easy Crypto with your Bitcoin Wallet Address
Why?
This is so Easy Crypto knows where to send your Bitcoin to once you've paid for your order. You can find your Bitcoin address in your Bitcoin wallet.
H) Head to your Bitcoin wallet and copy your Bitcoin wallet address
I) Paste your Bitcoin address into the field, confirm it's correct then click 'Next step'
Tip:
Always make sure to triple check you've provided Easy Crypto with your correct wallet address - Bitcoin transactions are irreversible.
Tip:
Never try and type out your Bitcoin wallet address manually, always copy and paste it to guarantee you're giving Easy Crypto your correct address.
Step 5 - Select your payment Method
Step 5. Select your Payment Method
J) Select your payment method – Account2Account, POLI Pay or manual bank transfer
Recommendation:
We'd recommend going with Account2Account or POLI Pay, to allow you to pay instantly. As soon as your NZD reaches Easy Crypto's bank account, your Bitcoin is released and sent to your personal Bitcoin wallet.
Step 6 - Pay to Complete your order
Step 6. Pay to Complete your Order
K) Follow through with one of Easy Crypto's payment methods and complete your order. 
Easy Crypto's systems will automatically kick into gear and send your Bitcoin to you in 20 minutes or less. Check back with your wallet shortly, and welcome to the club!
Step 1 - Create an account with Binance NZ
Step 1 - Create an account with Binance NZ
A) Go to www.binance.com/nz
B) Click on "Sign Up With Email or Phone"
Step 2 - Verify your Account
Step 2. Verify your Account 
C) Email Verification, go to emails and copy and paste code in the box below 
D) Set password for your account, Make sure it is secure! 
E) Verifying you by submitting the follow Information below  
Step 3 - Select the Crypto you want to Buy
F) Go back to home page and click "Buy now" Button. 

G) Select what you want to buy and amount. 
Step 4 - Select your payment Method
H) You can choose your preferred payment method here. To buy with credit/debit card, click [Visa/Mastercard] - [Continue].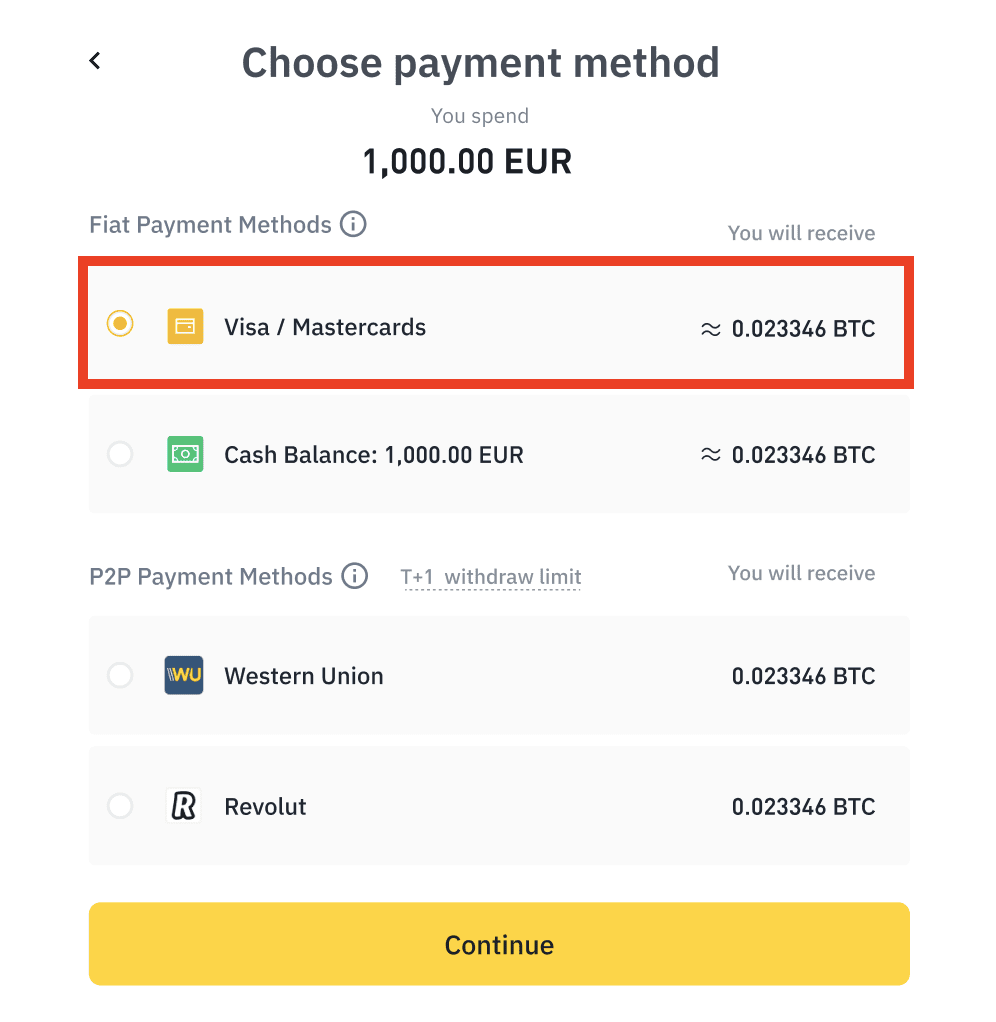 I) Enter card details and follow instructions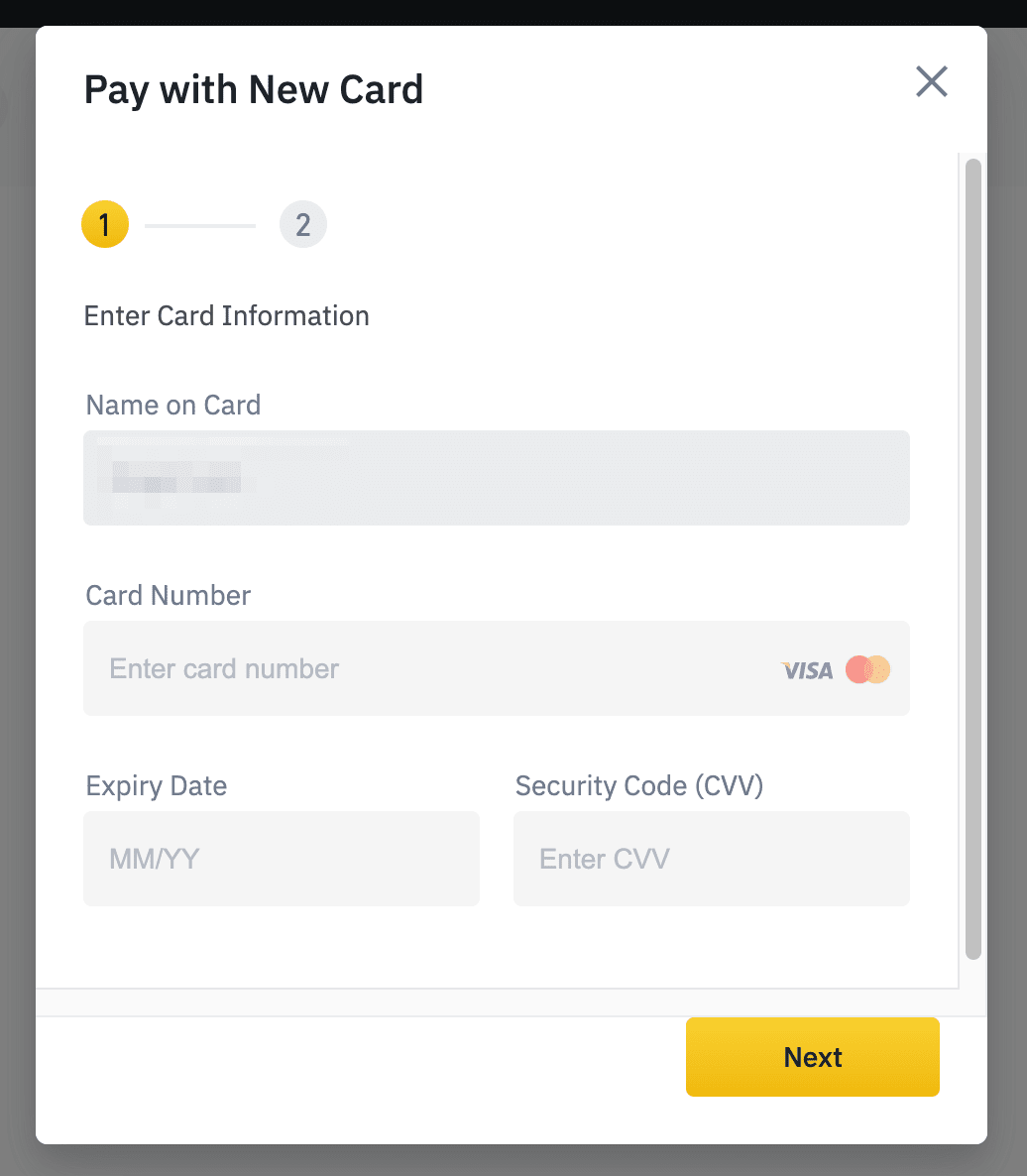 Step 5 - Pay to Complete your order
J) Confirm order and wait, order should be filled within 1 minute. 
Buying Crypto Safely - Tips and Best Practices)
Store your crypto in your own wallet! – See our NZ Cryptocurrency Wallets Guide here.

Always triple check that the Bitcoin address you've provided is correct – cryptocurrency transactions are irreversible.

Keep your crypto private. You wouldn't tell the world you have gold bars buried in your backyard, so don't tell the world how much BTC you are stacking.

Never invest more than you can afford to lose, crypto markets are known to be notoriously volatile. You cannot "buy the dips" if you have all your money-to-invest already invested.

Everyone has an opinion on Bitcoin – take it with a grain of salt and do your own research.

Not your keys, not your coins – make sure you store your crypto in your own wallet, not someone else's!

Don't sweat the small stuff – It's virtually guaranteed you'll make mistakes, so make sure you learn from them and use them to your future advantage. Everyone starts off as an absolute crypto rookie, it's a right of passage.

Bitcoin is the mother ship but consider diversifying into alts. "You diversify to mitigate risk, and go all in to maximize gain". Walk this fine line based on your unique preferences, circumstances and risk tolerance.

Aspire to have Diamond Hands – This refers to someone with high risk tolerance to stomach through the high volatility of their crypto assets. Don't fold under pressure, buckle up.

Take it easy on Shitcoins, when in doubt follow our NZ Shitcoin Investing Guide here.
How to Avoid Crypto Scams in NZ
Due to the increased awareness and adoption of cryptocurrencies in New Zealand, the NZ crypto scene is increasingly becoming the target of international crypto scammers, such as those lurking in the NZ P2P Marketplace and NZ's other various crypto groups. 
Scam is real

– international scammers have successfully stolen over 250k NZD from unsuspecting, over trusting Kiwis as of recent months. (Q2, 2021)



Scammers often pose as reputable members of the community, tricking naive Kiwi crypto rookies into sending them their crypto, usually via P2P scams. 


Scams are everywhere in the cryptocurrency world and although this can be deeply discouraging, there are certain things you can do and precautions you can take to protect yourself against people with ill-intentions.

The age old saying "If it sounds too good to be true – it probably is" has never been more relevant. Because in the crypto world it is possible for investors to see 50% gains in a single day, it can be hard to distinguish between what is legitimate and what is a scam. 
The best thing to do is to educate yourself, and this starts with incorporating some basic rules into your crypto perspective, establishing safe expectations: 
Always assume anyone messaging you about buying / selling crypto is a scammer, with intent to extract value from you in one way or another.




If you receive a message from someone you already know in crypto, assume their account has been hijacked, or someone is impersonating them.



Your cryptocurrency wallet is your personal crypto vault, and the keys to your wallet are your passwords, private keys and back-up passphrases. Never EVER provide these details to anyone, granting them control of your assets.


Always be wary of clicking random links that you do not recognise or trust, as these can be used by scammers and hackers to extract information about you, your device, your passwords or worse.




If you receive an email from a service you use, like Easy Crypto NZ – always assume the email is a fake, with intent to make you click a nefarious link.




Always use 2-factor authentication, unique passwords (yes, not the same one you use for every other account you have), and never passwords in your phone notes or social media accounts. 




Always take your time to verify whether you are being scammed – scammers often attempt to scare and convince you that the 'issue' is of a time sensitive nature and that if you don't do what they ask "now" your funds could be irreversibly lost. Always take a step back and not let your judgment be clouded by scare tactics.

If in doubt, the NZ Crypto Community Facebook Group is a great place to post a query or screenshot and ask your peers for their opinions – NZ is lucky to have so many experts in this field who are willing to help out.
Congrats, you are officially set for the future of money!
Now come join the rest of us!
New Zealand is home to an active, friendly and rapidly evolving crypto scene. Come join us in the local community groups and meetups and help make NZ a driving force in the crypto age!